The Secret Project Mother-son team Jonah and Jeanette Winter bring to life one of the most secretive scientific projects in history–the creation of the atomic bomb–in this powerful and moving picture book.

At a former boy's school in the remote desert of New Mexico, the world's greatest scientists have gathered to work on the "Gadget," an invention so dangerous and classified they cannot even call it by its real name. They work hard, surrounded by top security and sworn to secrecy, until finally they take their creation far out into the desert to test it, and afterward the world will never be the same.
The Invisible Boy A simple act of kindness can transform an invisible boy into a friend…

Meet Brian, the invisible boy. Nobody ever seems to notice him or think to include him in their group, game, or birthday party . . . until, that is, a new kid comes to class.
When Justin, the new boy, arrives, Brian is the first to make him feel welcome. And when Brian and Justin team up to work on a class project together, Brian finds a way to shine.
From esteemed author and speaker Trudy Ludwig and acclaimed illustrator Patrice Barton, this gentle story shows how small acts of kindness can help children feel included and allow them to flourish. Any parent, teacher, or counselor looking for material that sensitively addresses the needs of quieter children will find The Invisible Boy a valuable and important resource.
Compost Stew Fro
m apple cores to zinnia heads, readers will discover the best ingredients for a successful compost pile! Kids everywhere are knowledgeable about the environment and climate change. Not only is composting becoming more common in households a
nd residential gardens, but many school gardens feature compost piles, too. But how do you start a compost pile? What's safe to include? Perfect for an Earth Day focus or year-round reference, this inviting book provides all the answers for kids and families looking for simple, child-friendly ways to help the planet.
Brave Girl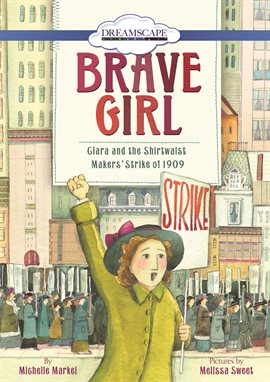 From acclaimed author Michelle Markel and Caldecott Honor artist Melissa Sweet comes this true story of Clara Lemlich, a young Ukrainian immigrant who led the largest strike of women workers in U.S. history. This picture book biography includes a bibliography and an author's note on the garment industry. It follows the plight of immigrants in America in the early 1900s, tackling topics like activism and the U.S. garment industry, with hand stitching and fabric incorporated throughout the art. When Clara arrived in America, she couldn't speak English. She didn't know that young women had to go to work, that they traded an education for long hours of labor, that she was expected to grow up fast. But that didn't stop Clara. She went to night school, spent hours studying English, and helped support her family by sewing in a shirtwaist factory. Clara never quit, and she never accepted that girls should be treated poorly and paid little. Fed up with the mistreatment of her fellow laborers, Clara led the largest walkout of women workers the country had seen. From her short time in America, Clara learned that everyone deserved a fair chance. That you had to stand together and fight for what you wanted. And, most importantly, that you could do anything you put your mind to.